Protecting Your Home: Gates and Fences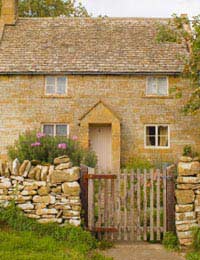 The art to protecting a property with gates and fences is in making the occupants feel secure and not imprisoned.
At the Front of the House
If a burglar approaches the property from the front then one popular rule of thought suggests not to blockade them in with great defences, but instead employ the opposite tact and make them feel as open and exposed as possible. A burglar will think twice about approaching a house from the front if they can be clearly seen by passers-by and neighbours.
This feeling can be achieved by employing low fences or low hedges around the front of the property. And the lonely vulnerable attack can be heightened further with security lighting and a gravel driveway.
Houses situated on quiet roads with minimal risk of being seen by street onlookers would not benefit so much from this method. Here, it is advisable to employ a taller and more defensive fence or wall perimeter and one that is difficult to climb over, such as one with a trellis on top or fashioned from a dense prickly bush.
Nevertheless having an open forecourt with gravel and security lighting can still be employed very effectively to make the intruder feel exposed.
At the Back of the House
Most burglars break in to a property from the back where they are less likely to be disturbed. Here, the general absence of street onlookers means the exposed front house tactic is useless.
When considering the type of fence to protect the back of a property it is important choose a barrier that is high enough to discourage climbing but not too high that it impedes the view the neighbours or the public have of your property.
It can be quite difficult to get this balance right. Many people bypass the quandary by using a fence with a trellis on top or a prickly hedge, because they are both difficult to climb over but do not obscure the view.
Side and Back Gates
If the back of a house can be accessed from the front then a high, sturdy and locking gate should be positioned across the access point. This is to prevent burglars from getting to the back of the property where they can operate without being disturbed by passers-by. These gates are best positioned level with the front of the house so that they can be easily seen by the public
There are many properties that have an added security weakness in having a secondary access gate at the back of the property. This gate does not need to be accessible to all like at the front and so should be high, strong and locked firmly when not in use.
Additional Features
Garden features such as pergolas and gazebos should not be constructed too close to the house as they could offer burglars an easy access point up to first floor windows.
It is strongly advisable not to add your own dangerous features to your security fencing, such as broken glass, or barbed or razor wire. If a burglar suffers injures whilst breaking into your property then the law currently dictates that you will be liable for the damages.
You might also like...