Garden Shed Security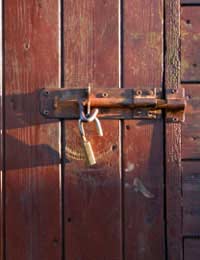 Garden sheds are popular targets for thieves due to their rich pickings and low-level resistance. If you are averse to the idea of a stranger rooting around your shed uninvited then it is wise to consider how well yours is protected.
The Vulnerable Garden Shed
The value of a typical shed's contents, such as bikes, garden mowers and tools, can quite be considerable and prove an enticing proposition for any thief. Also, by being unoccupied and positioned at the back of the house, the common garden shed allows the burglar to go about their business privately and undisturbed.
Even when sufficiently protected sheds are still vulnerable spots, and so any items of value that don't need to be kept in the shed should be stored in the house.
Securing Doors and Windows
The key access points to an average shed are its door and its windows and so security measures should be put in place to secure these aspects.
At the bare minimum a shed door should protected with a good quality hasp and staple with a padlock or padbolt. A hasp and staple bolted to the door and frame will provide extra strength.
Screws in the hinges of the shed door can be prevented from being removed by smearing glue over their heads. Alternatively there is a special type of screw available that cannot be unscrewed. These are sometimes referred to as 'clutch-head' or 'coffin' screws.
If the shed windows can be opened then they should be fitted with internal locks if they don't already. For permanent windows, bars or grilles fitted on the inside will provide an adequate defence against entry.
Alarms
If locks don't provide much reassurance and the shed contents are of particular value then it might be worth investing in an alarm. There are two main types of shed alarm available at reputable locksmiths or D.I.Y. stores; the infra-red detector and the door contact system.
Both systems emit a loud alarm. The infra-red detector sounds when it senses movement or body heat within the shed. The contact system is usually attached to the door and responds when it is forced in any way.
Shed Contents – Bicycles
Bicycles are often what attract thieves to sheds in the first place. For this reason, bikes should always be locked up securely inside regardless of how high the level of shed security.
The lock up should make the bike theft as difficult a task as possible. For instance it could be locked to something either fixed or very bulky, such as a workbench or a set of ladders. If there are other bikes in the shed, then they should be locked together. Simply wrapping a lock around the wheel of the bike is not good enough, because it can be carried away with ease.
It is advisable to brand bikes with their home postcode, so that they can be identified if they do happen to go missing. This service is available at many cycle dealers or a local police station.
Shed Contents – Lawnmowers and Garden Tools
If spoiling the aesthetics isn't too much of a concern, then it's a good idea to daub the house postcode onto the front of a lawnmower. This personal marking will put off any potential thieves.
It may not seen worth locking up some rusty old garden tools but these items often attract a burglar's eye not because of their sell-on value but because they can come in very handy as house breaking instruments. Such tools are better off kept in a more secure location such as a garage, but if they must be kept in the shed then it is sensible to lock them in a box or cage, or even chain them all together.
You might also like...