How to Improve Security in Your Garden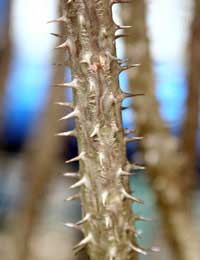 The garden has a role to play in deterring burglars but instead of being turned into a prison camp, with barbed wire, high fences and searchlights, nature itself can provide a more subtle and attractive security.
Burglar-Friendly Environment
The back garden is an ideal environment for a burglar to go about their business undisturbed. It offers relative privacy away from the glare of street lights and the prying eyes of the neighbours, and its natural features, such as trees and hedges, provide valuable camouflage when breaking into a shed or the back of the house.
This friendly environment therefore needs to be turned hostile towards the burglar, but without spoiling the harmony of the surroundings. For instance, putting up high fences, barbed wire and blinding searchlights may well deter the prowler but it would also spoil the sanctity of the garden for its owners.
The Prickly Bush
Mother Nature's barbed wire is the prickly bush. Instead of a grim high fence surrounding the property, a hedge made from a prickly bush will provide a more effective security barrier and offer an attractive garden feature into the bargain.
Prickly bushes, such as the 'pink lady', 'common hawthorn', 'rubra' and 'blackthorn', create barriers that are almost impervious to intruders. Their thick mesh of branches prevents anybody from crawling through, and the prickliness should deter most people from attempting to climb over.
The prickly bush is an effective security barrier but in return for its pains it demands to be well maintained, not least because of its tendency to attract litter.
Spiky Shrubs
There are many different varieties of spiky deciduous shrubs that can be used as an efficient barrier. They can be grown next to a wall or fence to deter would-be trespassers from climbing over.
For example the thorny cactus provides an effective security defence when planted along property lines and beneath windows. It also aids the more laidback gardener by requiring little water or general maintenance.
Keep Shrubbery Trimmed
Many homeowners use trees and bushes as a way of making their garden a private haven away from the prying eyes of the neighbours. Unfortunately if the property is too well concealed then burglars can too benefit from the privacy.
For this reason, windows and doors should be easily visible to the neighbours and the street. Any trees obscuring the view towards the house or other garden property should be trimmed up 6 feet from the ground. It is also advisable that bushes are kept down to 3 feet and beneath windowsill height, so that prowlers are unable use them as way of concealing their activities.
Climbing Plants
The access drainpipes provide up to windows and onto flat roofs can be easily cut off with the use of barbed wire or anti-climb paint, but this creates an undesirable effect. Many climbing plants, on the other hand, provide security whilst adding to beauty of the garden. The rambling rose, for example, offers both pretty pale yellow flowers and a prickly resistance to humans.
You might also like...