Securing Your Garage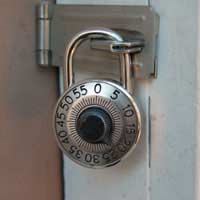 Garages attract burglars not only with their rich bounty of valuables, from cars to bikes to sporting equipment, but because security is often found to be sorely lacking.
Popular Target
A garage is a popular target for burglars. Not only does it often contain a variety of expensive items but also it is easily accessible from the street whilst allowing intruders relative privacy away from the house itself.
Even when attached to a house, in not being part of the home living space a garage somehow still feels detached. Intruders therefore don't feel like they're taking the risk of entering an occupied house, but a secondary building like a shed or a greenhouse.
Alarm Systems
Unlike sheds or greenhouses however, garages are much easier to secure with the home alarm system. If a house has a burglar alarm in place then it is usually easy to extend its supervision to the garage area.
Alternatively locksmiths or D.I.Y. stores offer two main types of stand-alone alarm for garages; a door contact system and an infra-red detector.
Both alarm types emit a loud siren. The infra-red detector responds to movement and body heat within the garage itself whilst the contact alarm reacts when the door is tampered with.
Door Protection
Garages with double wooden doors should be secured with a sturdy high quality hasp and staple, and a closed shackle padlock.
However, most modern garages don't favour the traditional door, opting instead for what is known as the 'up and over door'. Their popularity is not only due to their ease of access but also because, on the whole, they offer better security.
Nevertheless, the standard lock fitted within the central handle does not offer sufficient protection and can be easily broken into. As with the wooden double door, the 'up and over' can be fitted with a hasp and staple, and padlock. There are also specially designed garage mortice locks available that fit into the side frame.
If the garage is usually entered from the inside of the home and not from the driveway, then it is recommended to fit bolts to the runners of the door so that it can be locked from the inside. The padlock with hasp and staple can also be fitted to the inside for extra protection.
Garage Contents
It is never wise to assume that because an item is locked up in a garage then it is safe from undesirable outside interests. A garage is certainly not an unimpeachable fortress, just another line of defence. And the more walls of defence put in the way, the harder it is for the burglar to get their hands on what they want.
Valuable items within the garage should therefore have their own protection. Bicycles, for example, could be chained up to each other or, even better, to a hefty or immoveable object. One might not think the various tools that typically take up residence in garage would hold much appeal for the average burglar. However, they can be used to unlock the bikes or to break into the house itself. They should therefore be chained up or contained within a lockable box.
You might also like...