Securing all Doors at Home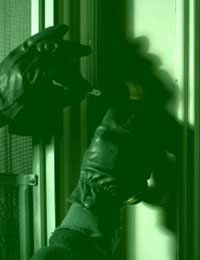 With two thirds of burgled houses accessed through the front or back door, it is essential that these access points are kept solid and secure.
Buying a New Door
Buying a new door is a great opportunity to start afresh and take the necessary precautions in providing a secure access point for your home. A good quality front or back door should be:
Certified to British Standard PAS 21-1 'Doors of Enhanced Security'
Fitted with a security chain or bar.
Fitted with a spy hole if there is no transparent window.
Solid and at least 44mm thick if made out of wood.
Fitted with a five-lever mortice deadlock.
Fitted laminated glass, if glass is preferred.
Fitted with tough hinges that are secured with long, strong screws.
Door Quality
However great a lock is, it is only as good as the door and frame. There is no point fitting an expensive lock to a door that can be forced with ease.
Wooden doors should be of solid construction and be at least 44mm thick and mounted on 3 sturdy 100mm hinges. UPVC/PVCU front doors are not usually appropriate for retro-fit security installations. Not only is the material not strong enough but any changes to the design of the door may adversely affect the warranty or even the existing locking system.
With wooden doors it is advisable to check if it has any weakened panels. For instance, certain traditional back doors with a glazed upper half have a plywood lower half that can be particularly vulnerable. Screwing a piece of exterior grade plywood over the top can help strengthen this.
Fitting a steel strip and plates to the frame and surrounding the lock can also usually improve the strength of wooden doors.
Locking Internal Doors
Some believe that locking internal doors provides the home with extra waves of security. If burglars make it into the property they don't then have a free run around the house, but instead are constantly faced by locked doors.
This method can make householders feel more secure but in reality it could end up causing more harm than good.
If, for instance, a burglar gains access to a house, they will likely not then let locked internal doors frustrate them from following their plans through to fruition. If they break down the locked downs they will cause costly damage and if the locks manage to thwart them, then they might take their anger out on their surroundings. Ultimately locking internal doors is a risky and potentially destructive enterprise.
Locking internal doors can also be dangerous in the event of a fire emergency. If a locked door forms part of an escape route then the extra time needed to open it could have even more serious consequences.
Patio Doors
Sliding patio doors can be secured with one of two different types of specially designed locks or a security bar.
If you are fortunate enough to have one with doors that slide on the inside of the fixed panel, then these can be secured very effectively and inexpensively. A piece of wood placed across the full length of the floor track between the door and the frame will make the patio door very difficult to force open.
For those with patio doors that slide on the outside of the fixed panel it is worth checking to see whether the doors can be lifted off their runners. If it can, then a glazing company or security firm should be contacted with regards to fitting a preventative metal block above the door.
Letterboxes
Letterboxes are not just access points for post people but for thieves too. They can be used to extract items from within close proximity to the door, such as door keys, or to operate the door from the inside.
For this reason extra caution should be exercised in where a letterbox is positioned. For instance, it should not be closer than 400mm from the door lock. An internal cover plate or a letter basket can provide extra security.
Secure Doors at all Times
However lavish the security, a house will always vulnerable to burglars if the protective measures are not utilised at all times. If somebody is at home it does not mean that a house is safe. Outside access doors should therefore be kept locked even when the home is occupied.
You might also like...
I live in quite roigh area any advice is helpful
Steely
- 26-Apr-17 @ 12:42 PM
need one security door to be fitted West Yorkshire My ph no is 07740076944 please call .cheers leon Parrish
leon
- 22-Jul-15 @ 8:06 PM