The Problem of Bin Raiding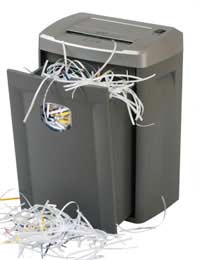 British residents have long been aware of the threat a thief poses to their valuables, but a new type of criminal is more interested in the contents of their rubbish bin.
What is Bin Raiding?
Bin raiding is where thieves search through people's household rubbish on the hunt for personal information that can be used to carry out fraud. Popular targets for bin raiders include bank and credit card statements, application form, bills and receipts. The information these items provide can be used to order goods, steal money or even commit full-scale identity fraud.
Such hunts are a relatively recent phenomenon in the UK, but one that has shown a disturbing increase in the last ten years. One London authority, for instance, recently discovered that criminal gangs were paying homeless people up to 5 pounds for any useful document they found rooting through bins.
The origins of the trend are thought to lie across the Atlantic, where in the 1980s, the height of 'dumpster diving', or 'information diving', saw company refuse being routinely ransacked for confidential and sensitive documents. The widespread use of document shredders in the early 90s largely brought an end to this security lax but the problem merely migrated to home refuse.
Bin Study
The extent of the problem in the UK was highlighted by a recent study of 400 domestic bins in Nottingham. This small scale sift uncovered a disturbing haul of sensitive and potentially damaging information.
The results found that two in five bins contained a credit or debit card number with named account holder, and most included the associated expiry date. Such an amount of data would be all a thief needs to commit fraud by ordering items over the internet or on the telephone.
Even more disturbing is how easy it is for crooks to collect biographical information to perpetrate identify fraud. The study, for instance, uncovered a completed passport application. In total only 14% of the bins contained nothing of interest to fraudsters.
How to Fight Bin Raiding
Despite only 8% of people in the Nottingham study taking preventative action, it is actually relatively easy to combat bin raiding.
Receipts, credit card or bank statements, bills or anything that contains private personal information should never be thrown into the rubbish whole. They should first be destroyed. Shredders are now commonly available at stationary and office stores and are a cheap and sensible investment for the dutiful fraud combatant.
When moving home, it is important not to make sure the post moves to the new location too otherwise it may be carelessly thrown away or abused in some way. All addresses should therefore be changed with the appropriate banks and service providers or the post office should be asked to redirect all mail.
Monitoring Suspicious Activity
Sometimes good bin management is not enough and fraudsters are still somehow able to get hold of sensitive information. For this reason it is important to always keep a close eye on account activity for signs of anything suspicious.
The emergence of online banking is a positive step forward for fraud prevention because it encourages users to scrutinise all transactions on their account as they happen. Account holders can now easily able to spot any unauthorised transactions and if so, take swift action.
You might also like...