Outside Lighting for Home Security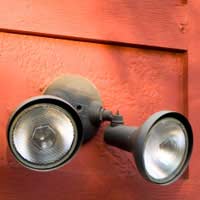 Outside lighting provides an excellent reassurance that nothing untoward is going on in the shadows surrounding your property, but only if it is not disturbing neighbours or the environment.
Good and Bad Lighting
It is now simple and inexpensive to fit security lighting to the outside of ones home, and if it is well designed and fitted then it can provide householders with a great feeling of comfort and security. Unfortunately security lights are often installed without paying much thought to their effective operation and effects on neighbours and the environment.
Currently there are several types of outside lighting available for the security conscious homeowner. The popular types of these are infrared sensor floodlights and low-wattage lights.
Movement-Activated Floodlights
The most popular security floodlight on the market is the quartz halogen-type model controlled with a movement-detecting Passive Infrared (PIR) sensor.
However, the PIR light has been the subject of severe criticism, largely relating to the harsh, disturbing and environmentally unfriendly white light it emits. The light often strays from its target and creates a nuisance for both neighbours and passing motorists. Also its instant flash effect tends to impair rather than aid human vision.
The PIR systems are very energy inefficient and unreliable. Their tendency to react to any kind of movement means that householders and neighbours often end up discrediting its burglar-detection abilities and ignoring them completely.
PIR lights have attracted so much criticism because they are often used ineffectually. If they are used as they designed then they can be an effective force against intruders. The Institute of Lighting Engineers have created a guide to fitting PIR lights properly and avoiding, or at least mitigating, their criticisms.
Low-Wattage Lights
Those who are resistant to the brash light pollution of PIRs should be directed towards low-wattage lighting. This provides constant low illumination throughout the hours of darkness, and is both environmentally friendlier and more cost-effective, with typical set up costing less than 1p per night in electricity.
The light is controlled by a photocell darkness detector unit, which recognises when it gets dark and switches the lamp on automatically. This unit can operate a variety of light, from practical bulkhead lights to decorative coach lamps, according to the tastes of the householder.
A low-wattage unit could light up a modest-sized rear garden and help to create a reassuring environment and perhaps deter from targeting the illuminated property. The disadvantage of PIR lights is that they only react when an intruder has broached the property, whereas low-wattage are designed to dissuade burglars from even entering.
Shadows
Low-wattage lights also create fewer shadows than PIR lights, although both systems need to be sited correctly to minimise the number of unlit areas. These shadow pockets can provide good hiding places for an intruder, or at least instil a fear that somebody is hiding there.
Burglars can easily tamper with both lighting systems, and so it is recommended that they be kept out of harm's reach and fitted at least eight feet (2.5 metres) from the ground.
You might also like...