The Bogus Workman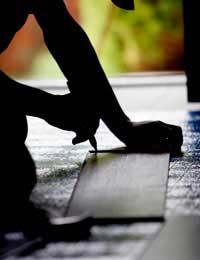 It is worthwhile understanding the traits of the bogus workman, one of the three main distraction burglar types, so that you are prepared if one happens to pay a visit.
Bogus Workman
The distraction type of bogus workman is one who tries to enter the home under false pretences. They may claim that they are there to check on water or gas supply, and if allowed into the property will use to the opportunity to steal from you. To combat such callers always:
Keep your back door locked when answering the front door.
Check to see who's calling before deciding whether to open the door.
Make sure the security chain is in place when opening the door.
Check the caller's details and identity with due care and suspicion.
Do not succumb to any pressure. Genuine callers will always wait patiently.
The Cowboy Workman
The cowboy workman is a different strain of bogus workman, and although not technically a 'distraction burglar' because are not using trickery to gain access to a person's home, they are nevertheless a threat to home security and residents' cash.
The bogus workman typically calls around to households advising them that their property needs various repair or maintenance work done, before offering to supply the service. Familiar jobs include drain cleaning or roof fixing.
Every year there is a regular flurry of complaints from residents who have employed the services of door-to-door workman only to be later left out of pocket and with an unfinished or shoddily done job on their hands.
Typically a worker calls around to a property offering their experienced services as a roofer, gardener, tarmacker for example – sometimes after convincing the householder that they need such work doing – and when the job is agreed they demand a large amount of cash up front and then later disappear without completing the job properly. The victim has no way of tracing the workman because the service does not provide valid contact details and not based locally.
Never Employ Casual Callers
There is no special technique to dealing with such con artists beyond just sticking to the rule of never employing the services of any casual callers.
Such workmen may entice people with their competitive rates, but the reason they offer such good rates is because they rarely have the skills, materials and willing to carry out the job properly. Many victims are left having to pay a reputable company to clear up the mess and do the job by the book.
Don't Be Rushed into Anything
This is not to say there are no casual workmen around offering a decent service, but just don't rush into anything you might later regret.
Don't accept for the work to be done immediately. Instead take a contact name and number and agree to call back in a few days with your decision. If you've not had your drains cleaned or your roof tiles repaired up until that point then a couple of days whilst you get a secondary estimate will not make any difference. Bogus workmen are characterised by their pushiness – their fast sales patter is meant to convince you to agree to their offer whilst at the same time not giving you any time to think about what the offer really is.
In fact if you need any serious maintenance work carried out then it is sensible practise to always obtain several written quotes before deciding who is offering the best deal.
Also ask whether they feature in the telephone book or whether they have contact details of any previous customers. In the meantime speak to friends and neighbours about whether they think the work needs doing and whether the caller sounds legitimate.
Never Pay Up Front and Never Pay in Cash
If employing the services of a doorstep workman, remember the two key points - never pay up front and never pay by cash. If they are genuine then they will accept this as standard practice and not happily abide by your rules.
You might also like...