The Bogus Dealer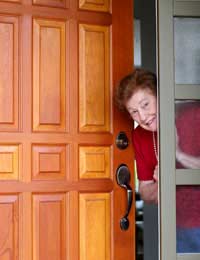 It is important to be aware the traits of the 'bogus dealer' so that if such a 'friendly Lovejoy' type ever makes an appearance on your doorstep, you are prepared.
The Trick of the Bogus Dealer
There is a type of con artist roaming the streets of your neighbourhood who is seeking to take advantage of the public's lust for earning money and their fascination with valuable antiques.
This bogus caller typically turns up on the doorstep alleging to be a experienced dealer of some kind, and claims they looking to buy antiques, jewellery or furniture and are willing to pay good money for anything that might catch their eye.
Of course, what happens to those drawn in by such offers of financial reward is that they become the victims of distraction burglary. The con artist is welcomed into the home, but instead of browsing your fine china and original artwork, they use it as an opportunity to steal your valuables.
Romantic Lure of Antique Dealing
There are many people in the country who are, from watching such TV shows as Lovejoy and the Antiques Roadshow, entranced by the world of the antique dealer. Your imagination might run wild at the romantic notion that unbeknownst to your, there are certain items in your home that are rare and valuable. Something standing on the mantelpiece or left at the bottom of a cupboard might seem unremarkable to the untrained eye but could in reality be a rare and exquisite piece that would attract a handsome sum at auction.
The bogus dealer is all too aware of this dream, seeing it as a weakness they can ruthlessly exploit. This is technique is similar to the resident who lets in the bogus official because they think they are doing their public duty, and the bogus workman, because they are worried by their claims that their property is in a dangerous state.
The bogus dealer is not an expert dealer at all, simply a crook looking for an excuse to get into your home.
Reputable Dealers do not Make Cold House Calls
It is reasonable to think that a cold-calling workman might genuinely be offering an honest service and make the householder think twice, but with a doorstep dealer there is no question; reputable dealers do not call round to people's houses. Therefore under no circumstance should you let a 'dealer' into your home.
Even if the dealer did seriously want to buy items from you, they would still be out to try and rip you off by offering money far below the market value. Whoever you are, there is simply no financial sense in calling round to houses offering to buy household items at a fair price. If there are items in your home that you think might be worth something then take them to a reputable dealer for a valuation.
Be on your Guard
If somebody at the door that you are not expecting then always remember to:
Lock your back door: Bogus callers often have an accomplice who enters the property through the rear whilst the caller is distracting the resident.
Check to see who the visitor is: First look through the door spy-hole or through an adjacent side window. Remember that there is no law saying that you must answer the door at all. It's an unfortunate fact of life; strangers rarely call round bearing gifts. If the caller looks suspicious or makes your nervous then don't be afraid of calling a friend, relative or even 999.
Use the security chain: If you really must answer the door then always make sure the security chain is on whilst you find out who the person is and what they want.
Check their identity: Don't let any strangers into your home unless you have checked their identity thoroughly. If they are on official business and they don't have valid I.D. card then you are entitled to send them away and close the door.
You might also like...