Distraction Burglaries - Facts and Figures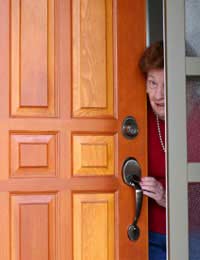 With around 12,000 incidents reported every year, distraction burglary has become a significant threat to the safety of households up and down the UK.
What is Distraction Burglary?
By and large, most people that call on you at home will be honest and genuine in their purpose and needs, but on odd occasions somebody will turn up unannounced with the intention of tricking their way into your house. These deceitful strangers are branded 'distraction burglars' or 'bogus callers'.
Any crime where a lie, trick or distraction is used on a resident to try and gain access to their home in order to carry out a robbery is classed as 'distraction burglary' or 'artifice burglary'.
Victims usually find that they have had money or possessions stolen from inside their home, and in many instances only realise they have been duped at some point after the crime has been committed.
The Typical Victims
The most horrifying aspect to distraction burglary is that its biggest target is the elderly, and in particular those women between the ages of 75 and 80 who live on their own.
Its victims are therefore not only robbed of their money and possessions but also often left psychologically scarred by the experience. Many of those who suffer at the hands of bogus callers become afraid to answer the door and even afraid to got out. The crime can also lead to a general deterioration in their general health.
The Typical Perpetrators
Criminals that specialise in the art of distraction burglary are not opportunist thieves but well organised and even sophisticated individuals. They usually operate alone or in pairs and appear on the doorstep under a remarkable array of guises including local council staff, builders, gardeners, care workers, nurses and police officers.
Not surprisingly in preying on the most vulnerable and defenceless members of society, distraction burglars are characterised by their cowardice and utter lack of conscience.
Whereas traditional burglars at least make no pretence about their unpleasantness, bogus callers are fraudulent individuals who ensnare their victims with their smooth talk and friendliness. Some make a bid for even greater depths of immorality by using children in their deceit or by selling on details of a 'successful' victim to another crook.
Recent Home Office Studies
A recent report by the Home Office found that within England and Wales, London, Northamptonshire and Bedfordshire were the prime hot spots for distraction burglaries, with number one county Northamptonshire recording 14 cases per 10,000 households over the space of a year.
In the same study, the predominantly rural environs of North Wales, Lincolnshire and Dyfed-Powys were found to be the areas with the least recorded instances of bogus callers. In Wales as a whole, distraction burglary was found to be a much smaller problem than in its neighbouring country.
Facts about Distraction Burglary
Distraction burglary is one of the most underreported crimes.
The average age of victims is 78.
74% of victims live on their own.
77% of victims are women.
Distraction crimes are largely committed in districts where the perpetrator is not recognised.
You might also like...