Measures to Prevent Distraction Burglaries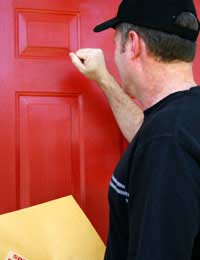 Distraction burglary is a heinous crime that can severely traumatise its victims, but it is at least a crime that can be prevented with some basic security precautions.
Nobody Calls Around Unexpectedly Anymore
It is the nature of modern times but rarely do people pop around unexpectedly anymore. If the gas board calls to read the meter then they will likely phone ahead first or leave a card. Even friends call up first to invite themselves round.
So these days it is natural to be immediately suspicious of any callers. There are many people who just ignore all unexpected calls on the principle that if it was important then they would have phoned ahead beforehand. Such suspicion - although a symptom of a sad age where community spirit is dying – is a useful tool in the fight against distraction burglary.
When the Doorbell Rings
So when the doorbell rings, always first check who it is before deciding whether to answer it. A spy-hole in the door is a useful tool for seeing callers without them seeing you, but otherwise a peep through a neighbouring window would suffice in weighing up the identity of your visitor.
If you are still suspicious of the mystery caller but curious about their purpose, then you should open the front door with a door chain fastened.
Ask Questions
If the person at the door claims to be an official, a salesman or a tradesman then don't be afraid of asking them questions to prove their identity. Any genuine caller would expect to be asked the nature of their business. Be sure to think:
What is the purpose of their visit?
If they claim to be from a company then what is the name? You should call the company up to validate the visit - although never use a number they provide.
Do they have any ID or associated paperwork?
Additional Measures
The name 'distraction burglary' derives from the fact that whilst you are communicating with the caller, a secondary burglar could easily sneak into your home from around the back. It is therefore important that you are prepared for any such ruse.
Always make sure your back door is locked when answering the front door.
Never keep large amounts of money in the house. Always be sure to use a bank or post office to look after money you don't need that particular week.
Keep keys in a safe place hidden from view.
Don't keep valuables somewhere easily accessible. Hide them away upstairs or in a safe if possible.
Keep out of sight any documents displaying personal details, such as bank statements, utility bills or a passport.
When to Phone 999
Bogus callers may plan their con tricks in advance but they are not usually so well planned that they don't fall apart under any kind of scrutiny. If you are suspicious that the caller represents a company that doesn't exist, or that their ID looks false then don't hesitate, phone the police.
If someone forces entry or enters your house without your permission then phone the police. Likewise if you notice that something has gone missing following a recent visit. It does not matter whether a crime has been committed or not, if the threat of a crime is there then it should be reported.
Too often distraction burglaries go unreported – whether it's because of fear, embarrassment or a belief that no good will come of it – and these deplorable bogus callers are let off the hook. For the sake of justice and the safety of other potential victims, distraction should be tackled.
You might also like...