Setting Up a Neighbourhood Watch Scheme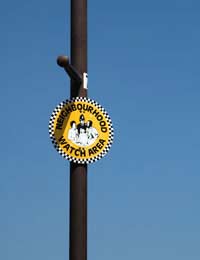 Protecting your home with locks and alarms will certainly help improve its security against burglars, but for all round protection it should be combined with an enthusiastic Neighbourhood Watch scheme.
The Neighbourhood Watch Scheme
All manner of locks and gadgets will undoubtedly add to the security of a home, but its impact will always be limited without the assistance of keen-eyed neighbours.
A burglar typically visits properties that have been left empty, because they like to go about their business undisturbed and unobserved. However, if an entire neighbourhood is actively committed to a watch scheme then a burglar is faced with the unnerving prospect that hundreds of eyes could be watching their every move.
Working Together as a Community
The Neighbourhood Watch scheme originated in the UK in 1982, and now boasts around 10 million members. Its aim is to prevent crime and make neighbourhoods safer by fostering a caring, watchful and responsible community that operates in partnership with the local police force.
It promotes the idea that residents can protect themselves and their properties and reduce the fear of crime, by improving their home security, keeping ever vigilant, reporting suspicious activity and upholding the community spirit.
A burglar thrives in areas where every home is an island cut off from the rest, each minding their own business. In such neighbourhoods anything could be going on but 'as long as it's not going on outside my property, I'm keeping out of it'. A burglar is not fond of neighbourhoods where its residents operate as a team, each looking out for one another by providing area-wide human surveillance.
Being Nosey Becomes a Duty
In a Neighbourhood Watch scheme all residents agree that they will be vigilant and proactive as far as crime in their neighbourhood is concerned. So if anybody feels they would be intruding on a neighbour's privacy to ring the police if they see something suspicious going on in their back garden are then actively encouraged to do so.
'That's strange, I didn't think the folks at number 13 were moving house, but there's a removals men loading their stuff into a van. I think I better give the owner a ring on his work number.' This is how Neighbourhood Watch works – it not only gives you a right to be nosey, it becomes a duty.
Joining or Setting up a Neighbourhood Watch Scheme
If you are interested in joining a Neighbourhood Watch scheme in your area then contact your local police station who will put you in contact with your neighbourhood co-ordinator. This individual is a local resident who has volunteered for the role as watch supervisor. It is their job to liaise with the crime prevention police officer and keep members in touch with initiatives and crime prevention measures.
If there is not a Neighbourhood Watch in operation then the police will advise you on how to set one up.
It is also worth visiting the UK Neighbourhood Watch Trust website, which was founded in 2006 to help promote 'secure, confident communities.' The site features news, opinions, information and forums, in addition to a facility to help you find your local Neighbourhood Watch group.
You might also like...