The Law and Home Protection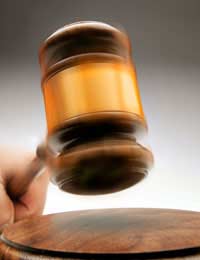 The law favours the victim, even those engaged in a criminal act at the time. Therefore when you defend your property from criminals, it's important you make sure you're not breaking the law.
The Law and Home Protection – Is it Fair?
Although the law is there to help maintain a safe, orderly and just society, it can also sometimes appear rather unfair.
There have been several high profile cases in recent years, of residents taking violent action against intruders into their homes, and being convicted as criminals. Many don't see these people as criminals, just brave and decent citizens willing to protect the safety of their family and property. They believe that a victim of burglary has the right to defend themselves and their own. However, the law thinks differently.
The Criminal Law Act 1967 states that residents are permitted to use 'reasonable force' to defend themselves. In these particular examples this law was breached and the burglary victims were punished for taking 'unreasonable' retaliatory action. This would not be such a controversial issue if it was as clear cut as that; unfortunately the distinction between what is reasonable and unreasonable has proved an impossible task to define.
Am I Using 'Reasonable' or 'Unreasonable' Force?
For example, in another well-publicised case a man stabbed to death one intruder and seriously wounded another. However, in this instance his use of force was deemed 'reasonable' and so was not prosecuted.
So when residents are faced with the nightmare scenario of coming face to face with burglar intend on causing destruction to both them and their home, how can they be expected to know what degree of force they can and can't use to defend themselves?
For many the law regarding personal defence is confused, contradictory and ultimately, unfair on the citizens it is supposed to protect.
Basic Advice on Defending Yourself
As a general rule it is acceptable to defend your family and your property if attacked. It is not acceptable to use undue force in controlling the intruder or to take revenge action, such as when they are leaving and no longer pose a threat.
If a person is simply trespassing on your property and has no used any force to gain access then the intruder must first be asked to leave and if they refuse, only then is it acceptable to use appropriate physical force.
Security Measures
It is easier to define what the law finds acceptable with regards to the physical protection of your property, although many regard it as no more fair.
The law takes a stern view of residents using such harmful renegade security measures as barbed wire, nails or broken glass.
The person in charge of a property has a legal duty to protect all its users from foreseeable harm, even if they are on the property illegally. If an intruder is hurt by a security measure – such as glass or barbed wire – that the householder knew to be dangerous then they could be sued for damages under the Occupier's Liability Act 1984.
For many people this is a bogus law because the intruder would never have been hurt if they were heeding the law like a dutiful citizen. However, others might argue that the barbed wire or glass should never have been there in the first place because it is dangerous to anyone else who uses the property, from children to postmen. Ultimately it is perhaps wiser for residents to use nature's own barbed wire – the prickly bush.
You might also like...