Security in a Fire Situation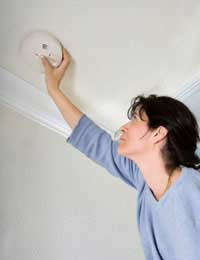 Good home security should not only be able to keep burglars out but, in the case of a fire emergency, allow its occupants to get out.
Fire!
It is all well and good if a home security system keeps thieves at bay, but if it prevents householders from getting in case of a fire then it is worse than bad home security, it is potentially deadly.
A burglary can cause great upset and inconvenience but a fire can be much worse, particularly if people are trapped inside. It is therefore critical that when thinking about home security as much consideration is paid to the risk of fire emergencies as the threat of intruders.
It would be one of life's bitter ironies that somebody that valued the protection of their family more than anything and invested in a rigorous home security system, was never burgled but in a fire emergency was left trapped by their own defences.
Escape Route
Just as when you consider a burglar's potential entry point, when considering security measures, you should always think about a property's potential escape routes in the event of fire.
An emergency escape plan should be agreed with the whole family or the whole occupants of the house. The escape route should always be kept clear of any obstructions or flammable materials. It also should bear in mind that most the dangerous fire situations occur are at night when the occupants are in bed.
Keys and Locks
For this reason, any keys to outside access doors should be within easy reach of the bedroom. It is no use having to run down to the kitchen to try to find the front or back door key. All household keys should be kept in one safe place, where it is easily accessible by everyone but not on display.
In the interests of home security, the outside access doors should be locked but there is no reason why any internal doors need to be. If a kitchen or lounge door is locked at night, as 'an extra wall of protection', then in an emergency it will only serve to create added confusion and take up valuable time.
Fire Precautions
Smoke detectors give an early warning of a fire outbreak and are therefore a potential lifesaver. A detector should be fitted at a central location on every floor of a property. It is important to carefully follow the manufacturer's instructions on how to fit and position the alarm and also to check its efficient operation once a week.
Keeping all internal doors closed when not in use is a basic routine that can have a significant effect in a fire situation. Fires have a tendency to spread very rapidly, but if the door of the room where it is closed, then it will help to contain the blaze for an indefinite period. The fire will eventually make its escape but the time saved could be critical.
Before Going to Bed
Before retiring for the night make sure to switch off and unplug all electrical devices that don't need to be left on. Any cigarettes should be properly extinguished and the contents of ashtrays disposed of in a metal bin outside.
You might also like...