Employing a Guard Dog at Your Home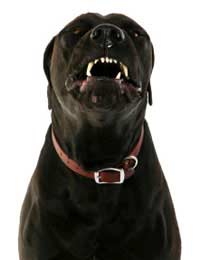 A guard dog is the only home security feature that provides both protection for the family and property and great companionship.
Dogs and Guard Dogs
Having a dog as a pet does not automatically mean you have a guard dog. Most dogs are watchdogs and must be properly trained and socialised in order to be eligible for the position of household guard dog.
Many breeds are not naturally suited to the role and require professional training to be able to reliably alert its owners to the presence of intruders and to bark in a threatening manner.
Working dogs generally show a more natural instinct towards protecting their territory and family. They nevertheless need some tuition in the arts of obedience, sociability and general control.
The Best and Worst Guard Dogs
The best natural guard dogs include Doberman Pinschers, Bull Mastiffs, Rottweilers and German Shepherds. In addition to their instincts towards home protection, their sheer size and ferocious bark are an extra threat to burglars.
The worst types of guard dogs tend to be those that are very energetic, very large or very aggressive.
Choosing the Appropriate Dog
When looking for a guard dog it is important to choose one that it suits its owners, its environment and its target.
If the property is a target for burglars, and demands a high level of security then a natural guard dog would probably be the best option. However, if the threat from intruders is only a minor one then it might be a better idea to have a warning dog, one that barks when a stranger approaches but is generally friendly.
A dog should also be a pet as much as a guard dog and should be chosen for its suitability in both areas. There is no point getting a Doberman for its menace if you're scared of it too. Natural guard dogs are generally not as fond of petting or teasing as other dogs, and so perhaps might not be ideal family dogs. They have a strong instinct for self-protection and are likely to lash out if they feel threatened in any way.
Guard Dog Training
The best guard dogs are not bought readymade but trained up from being a puppy, so that they learn to obey their owner instinctively. As much as a guard dog should protect the owner's family and property, it should also be in the complete control of its owner.
The puppy should be bought from a reputable breeder and ideally introduced to a trainer when it is between 6 and 12 months old. It will first be taught general obedience, such as learning to obey hand and voice signals. After this it will be ready for what is known as Controlled Aggression Training. During this 3 to 6 month programme the dog will be encouraged to develop its home protection instincts and learn to respond to its owner's attack commands.
Beware of the Dog
The 'beware of the dog' sign, hung from the front of the house or on the gate, is popular method of deterring burglars from targeting a property. The 'dog' could of course be a fierce Rottweiler or a soft Labrador puppy, or not even exist at all, it doesn't matter - the sign is there to ask the burglar whether it's worth the risk finding out.
Law and 'Beware of the Dog' Signs
The law takes a peculiar stance when it comes to the use of 'beware of the dog' signs.
If such a sign is on display when the dog attacks a trespasser, then its owner is liable for prosecution, because it could be argued that by displaying the sign they knew the dog was dangerous. However, if the dog attacks an intruder when no sign is visible then the court would decree that the owner was unaware of the threat of the animal, and is therefore not liable for court action.
So for those considering a sign, according to the law if you have a harmless pet dog then by all means display a 'beware of the dog' sign as a deterrent, but if you have a dog that would be liable to attack an intruder then don't, as you might get into trouble.
You might also like...