Security Coding Valuable Items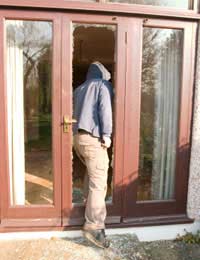 Victims of burglary usually don't expect to see their property again, however security coding can not only help restore missing items but also help catch the thieves responsible.
The Indistinguishable Mass
When most belongings are stolen they disappear into an indistinguishable mass of plundered goods. For instance, if your television were stolen then how would anyone recognise it as yours from the thousands of other identical models in circulation?
It is the clone characteristic of most consumer goods that makes them so enticing to the average burglar. It means they can sell them on without the buyer being aware of where they came from. Security coding is therefore a way to stamp a claim of ownership on an item.
Mark Belongings with your Postcode
Marking belongings with your home postcode and house number is an effective way of 'tagging' them. This personalisation makes it harder for thieves to dispose of the property and could provide valuable evidence for prosecution. It also helps the police retrieve the stolen item.
As an extra deterrent, window stickers warning burglars that items have been marked are available from local police stations.
Ultra-Violet Marking
Personal goods can be tagged without spoiling their appearance and reducing their value with the aid of a ultra-violet felt tip. This produces a mark that is invisible to the naked eye but can be identified by the police.
These cheap and widely available pens can be used to write the owner's address details on belongings to enable them to be identified if ever stolen. A postcode and house number are all that's required to trace an owner based anywhere in the UK.
The downside to ultra-violet pens is that in being invisible the marks will not put off thieves from stealing an item. The marks also have a tendency to fade. It therefore recommended that the ink be reapplied every 12 months.
There are more reliable, but more expensive, options within the field of ultra-violet tagging. For instance, specialist products, such as microdots or chemical trace liquids, can be applied to internal or concealed components.
Difficult to Mark Items
Items such as antiques, art, silverware or jewels don't have serial numbers and marking them would only spoil them, so how can you tag such valuables?
The best way is by taking some close-up colour photographs of the items, paying particular attention to any distinguishing marks such as a crest or any initials. The photos should be taken against a plain colour background and include a ruler to give an accurate impression of size. These photos should then be kept safe with the home insurance policy.
Record Serial Numbers
Although for every electrical item there might be thousands of seemingly identical other versions in existence, each one is actually slightly different from the next.
Consumer goods are identifiable by their unique serial number. If an item's serial number is recorded it can be then circulated as stolen by the police, much in the same way that a registration number can help trace a stolen car. It is therefore a good idea to keep a record of the make, model and serial number of belongings such as televisions, stereos, DVD systems, home computers and camera equipment.
You might also like...