Carrying Personal Attack Alarms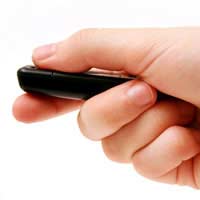 Home alarms are a trusty method of protecting the property, but what about the person? Personal alarms are there to make you feel safe and protected in an emergency situation.
The Function of Personal Alarms
Personal alarms are handy devices aimed at people that feel vulnerable either in their home or out and about in the street. Its advocates amongst the elderly, the physically handicapped and the home alone, claim it helps them feel safe and secure.
If you feel defenceless when faced with an assailant then a personal alarm provides an effective non-violent response. Its loud shrill will scupper any plans a robber has of avoiding any unwanted attention and carrying out their crooked business unnoticed. Once that alarm rings, the countdown begins and the slower they escape the scene, the quicker they will be apprehended.
In addition to shocking the assailant and attracting the attention of neighbours and passers-by, the deafening noise will also give the victim an opportunity of escape.
Key Alarm Attributes
With so many different personal alarms on the market, it is difficult to know which one to choose. As a guide, the key aspects to look for are:
The alarm needs to emit a sound that is both continuous and disturbingly loud, thereby leaving the assailant utterly disorientated. A minimum of 138 decibels is recommended.
It must be simple for you to operate in an emergency.
Its size must suit its function. If it is to be carried around then it shouldn't be too big, but if needs a strong alarm then it shouldn't be too small either.
The alarm must meet the appropriate quality standards and UK regulations.
Types of Personal Alarm Available
The popularity of personal alarms is highlighted in the wide variety now available at fairly reasonable prices. These vary from gas cylinders to key-ring alarms to wireless emergency alarms.
Gas alarms are very easy to operate and emit a very loud, continuous sound. Different models have different additional features such as releasing ultra-violet jets, which can help track the attacker, or a nauseating odour, which leaves an identifiable smell on their person. However, they need to be well looked after and carefully stored because they are sensitive to extreme heat or cold.
Key-ring alarms are small and easily portable devices that can create a fierce sound of over 138 decibels when activated. The alarm will ring for as long as the button remains pressed.
Similarly handy devices are the battery and electronic alarms, which can be attached to a belt or worn as a necklace. Many feature an additional door or window switch that turns the device into a useful travel alarm, which can be used to guard your hotel room or even your handbag. Often these devices emit a pulsating rather than continuous alarm sound.
Wireless Medical Alarms
The wireless medical alarm has a different function altogether. This personal emergency device means elderly citizens simply press a button to call for outside help when they suffer a medical crisis in the home. The alarm attaches to the person as a bracelet, pendant or key chain and upon activation will either contact a 24 hour specialist response centre or a pre-arranged list of emergency numbers.
You might also like...