Advice About Keys in Your Home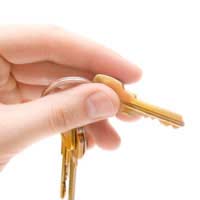 Despite increasing technological sophistication, the humble old key still rules the roost with regard to home security, and therefore its safekeeping and dutiful use are as important as the property and people being protected.
The Indiscriminate Security Tool
Sophisticated gadgets like numeric keypads and fingerprint recognition devices are increasingly controlling access to private businesses and offices, but home security is still largely ruled by that most ancient of authentication devices – the key.
The key is an effective but far from perfect security instrument, providing as it does, a great many opportunities for misuse.
It is not a personal device. It is indiscriminate about who uses it, not caring whether it is the owner or a thief. Therefore those unwilling to have the control of their house security fall into the wrong hands should keep a close eye on their keys.
Keeping Control – Key Precautions
When moving into a new home, always make sure to have new locks fitted for the front, back, or any other outside access doors. Otherwise there is no way of knowing for certain who else might have admittance to the property. When choosing a locksmith to carry out the job, make sure they are member of the Master Locksmiths' Association.
All keys should be kept in one safe place out of view, so that they can be easily found in an emergency, but also so that thieves cannot take them. For instance it is not unusual for burglars to use a variety of inventive means – such as with fishing rods or magnets - to grab keys left in open view by windows or on the hallway table.
Additionally, if the burglar breaks into property and keys are left lying around then it is easy for them to gain access to otherwise locked parts of the property, such as the shed, garage or even the car. Not leaving keys to hand also forces the burglar to leave the same way they entered, thereby restricting their visit. So if they entered through a small window they would have to take any spoils back out through that awkward entrance.
In Case of Fire
A fire situation can potentially turn the security of a property on its head. For instance good security is designed to keep burglars from getting in and not people from getting out. For this reason it is important to think as much about the escape route as the burglar access route. Unlike a burglary, a fire is a life-threatening situation.
For example, internal doors should not be locked because they could block a potential escape route. Keys for all outside access doors should be in an easy reachable place, and one that would be handy once the householders retire for the night.
The Hiding Place
However sophisticated and impenetrable home security becomes, it can all be rendered useless by the hidden key; that is the key concealed in a secret place in case the resident forgets their own.
The idea of the key under the mat, or the key inside the plant pot has become so well known, that it has become a burglary cliché and even thought of by some as an urban myth. However, people still leave their keys in hiding places and burglars still find them.
Under the mat, inside the plant pot, behind a loose brick, hanging on a piece of string inside the letterbox – these are all well worn hiding places, and logged in the pages of every criminal handbook. But even if your secret spot is a novel and ingenious one, it is not worth risk of jeopardising all home security efforts because you might forget to take your key with you when you rush out in the morning.
Keys kept as spares in the event of the losing the main set should be instead left with a friend, relative or trusted neighbour.
You might also like...