Using a Safe in Your Home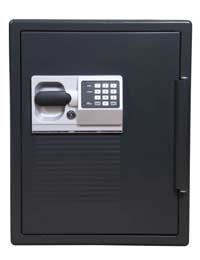 Safes are no longer the preserve of banks, businesses and super rich, but are becoming an increasingly common way of keeping valuables secure in the home.
The Affordable Home Safe
Many households have certain items of particular value that would cause the greatest upset if lost and which their owners want to keep safe over anything else. Such items might have great a financial or sentimental value which no insurance could ever cover.
The customary method of preserving such delicate items is to conceal them in a secret hiding place around the home. However, recent years have seen this time-honoured tradition superseded by the trust home safe.
The affordability of safes has meant that it they now no longer the preserve of banks, businesses and the super wealthy, and have become a familiar fixture in the security conscious household. There is now a large range of safes on the market that offer protection for money, family heirlooms and important documents.
Safe Hiding Place
Most modern domestic safes are not designed to be put on show as a challenge or taunt to an intruder, but to be hidden. A house with a safe on show is akin to waving a red rag at a bull; they have a safe, therefore they must have something really worth stealing. Domestic safes typically add an extra layer of security by being hidden in cupboards or even under the floorboards.
Types of Safe
Types of safe can vary according to their location - wall, in or under-floor and freestanding – what they are protecting against – burglars, fire or environmental damage such as water or dust – or the type of lock used – such as combination, key, or time or electronic locking.
There is also the diversion safe or hidden safe, which attempts to outwit any potential safe crackers by disguising itself as an otherwise day-to-day object, such as a book, a candle or a plug socket.
Aspects to Consider
With all the different types of safe on the market, there are many different aspects to consider when choosing a model. Where will it be kept? What is protecting against – burglars, fire or flooding? What will be stored in it? If it is important documents that need to be protected in case of fire then the heat resistance of the safe will be a major factor.
Do you even need a home safe? If the safe is to be used to store money and jewels that don't need to be accessed very often, then why not opt for a safe deposit box at a bank instead?
Seeking Safe Advice
For an item with such responsibilities it is not worth choosing a safe on instinct and without carrying out any prior research. It is recommended that advice on the most appropriate safe be sought from a local locksmith.
If you require a safe to protect items of great value, such as expensive jewellery, then it is wise to first consult your home contents insurance provider on what type of safe they advise.
You might also like...