Securing Windows in Your Home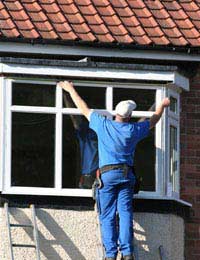 With one third of all burgled houses accessed through a window, it is essential that these access points are kept safe and secure at all times.
Keystone of Home Security
The core to any home protection is the security of doors and windows. It doesn't matter how elaborate an alarm you have fitted, if your doors and windows are not secure then your house is vulnerable.
All home windows should be fitted with a lock, from bathroom windows to skylights. If the window is big enough to fit a head through then it needs a lock.
Buying New Windows
If you have the opportunity of buying new windows then this is a great chance to start afresh give the home some good quality security foundations. Secure new windows should be:
Certified to British Standard BS7950 'Windows of Enhanced Security'.
Fitted with locks that can be seen easily from outside in order to deter would-be thieves.
Fitted with laminated glass for added strength.
Laminated or Toughened Glass?
Many specialists argue that laminated glass offers better security and safety than its 'toughened' cousin. When toughened glass breaks it tends to smash into many small pieces across the pane. Laminated, on the other hand, breaks like normal glass but whilst holding in place in the window. This will slow down a burglar's entry and also stop a child from cutting itself.
Additional Window Locks
The security of a window can be strengthened with addition of a supplementary lock.
The strongest locks are those that secure the window into its frame, as opposed to those that merely lock the handle or stay bar in position. Some familiar examples of good quality window locks include the casement and the fanlight. Casement locks prevent a window being opened without the necessary key, whereas fanlight locks use a metal bolt to secure the metal arm that open and closes the window.
If you decide to fit locks to PVC-U or metal windows then it is wise to first speak to the installer to see whether this would affect your warranty.
French Windows
If your French windows have two opening doors then it is important to note that the lock securing them together is only as strong as the doors themselves. If therefore wise to add further protection by installing mortice bolts to both the top and bottom of each door. The bolts should couple the doors to the frame and not each other. The keys to these mortice bolts should not be left in the locks otherwise a burglar could easily break a pane of glass and unlock the bolt themselves.
Louvre Windows
Louvre windows may look very nice but they are not particularly secure because their slats can be easily removed from the frame. They can be strengthened by gluing the slats in place with an epoxy resin and by fitting a specialist louvre lock. Nevertheless it is better not to have louvre windows on the ground floor of a property.
Keep Windows Secured at all Times
An alarming number of burglaries are committed by opportunists taking advantage of an open window. Ultimately it doesn't matter if you have superb window security, if you leave windows open then your home is at risk from intruders. It is therefore imperative that windows are kept locked whenever possible.
You might also like...