Student House and Safety Measures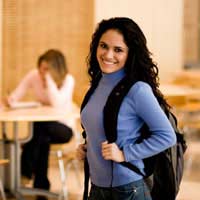 Statistics show that students are at a high risk of being a victim of burglary, but all it takes is some basic security precautions to significantly reduce the chances of university highlife being ruined by crime.
High Targets
With students on average owning more expensive consumer items per person than the rest of the population, it's not surprising that 1 in every 3 students falls victim to crime every year.
A student is particularly vulnerable when they move into shared private accommodation. With each property that value per head is multiplied – one student house could have four TVs, four stereos, four laptops for example. A student property therefore presents a veritable goldmine to the prospective burglar. This helps explain why those aged between 16 and 24 are around three times more likely to be burglary victims than any other age group.
Low Security
Student houses are also victimised because of their typically low levels of security. Being owned by landlords more concerned with making money than providing a safe and homely environment for their tenants – who, in their naivety, are very undemanding in their housing needs - it is rare for student properties to be fitted with quality security features such as a burglar alarm or mortice locks.
However, from a landlord's perspective, if extra security features were fitted then it is fair to say that their value would often not be wholly appreciated by the residents.
Basic Common Sense and Precautions
It's easy to let common sense fall by the wayside in the pursuit of a good time but just some basic precautions can prevent the heady thrills of student life being dampened by a dose of harsh reality.
For instance, a remarkable number of burglaries occur when a door or window have been carelessly left open. It is therefore essential to always lock up when leaving the property, and if you have deadbolts then always use them.
With so many odds stacked them, all student house residents should be protected with insurance. They can also help protect their personal electronic items by keeping a list of their make, model and serial numbers. This will aid police endeavours to track them down if they are stolen.
If students mark their property with the initials of their university along with their ID number then these items will be much less attractive to burglars, who would find this stuff much harder to sell on.
The Pros and Cons of the Student Timetable
The big advantage to student properties is that by and large they are left unoccupied far less frequently than traditional family houses. The typical student timetable involves only part-time university attendance - the rest of the working hours are set aside for 'home study' - and so unless everybody follows the same subjects, there is usually at least one person at home during the daytime to man the fort.
Instead student properties are at their most vulnerable during the evenings, when their occupants can often be found indulging in some off-premise entertainment. Of these the biggest targets are the student houses comprised of a close group of friends. This is because they are more likely to all go out together and thereby leave the house unoccupied. Houses comprised of students with their own social calendars are less likely to be left vacant, but then these houses are also often not nearly as much fun to live in.
If a house is being left occupied during the evening then at least one light should be left on at the front or back of the house. As an extra precaution it is also worth leaving a radio on to create some lively 'evening in' ambience.
Minimizing the 'Student Look'
Student houses are usually targeted because they look like student houses. Therefore simply minimising the classic 'student look' is an effective way of reducing the risk of being victimised.
But what is it that makes a house scream 'student property'? Here are some telltale signs that should be avoided:
Outside decoration, such as posters or signs on the front door or in the windows, or pilfered road signs in the garden.
Beer bottles, pizza boxes etc stacked up outside the property.
A downstairs front or back room that is visibly a bedroom. If you have a bedroom on the ground floor either keep your curtains closed or better still, hang a net curtain.
You might also like...