Protecting the Home at Christmas and Halloween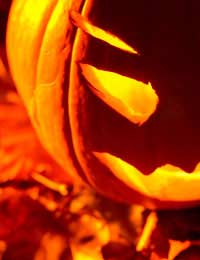 Whilst Christmas and Halloween are both traditionally happy and fun times of the year, they also attract a darker element and with it some accompanying security concerns.
A Cautionary Christmas
Christmas is a happy time for many people, but especially for burglars whose activities go into overdrive at this time of year. Over turkey dinner they lick their lips at the thought of all the new expensive items that are on offer in homes across the area.
To avoid being the victim of a burglar full of the joys of Christmas, here are some basic tips to bear in mind over the festive season:
If you have a Christmas tree on show in the window then don't keep your presents beneath it. By doing so you are effectively advertising the gifts to the neighbourhood, and tempting its crooked elements.
Carefully dispose of the packaging for any expensive presents such as computers or stereos. If boxes are left outside by the rubbish bin it is easy for burglars to see what's on offer inside.
Don't forget basic security such as always locking doors and windows when leaving the house or going to bed. In the frantic rush that traditionally accompanies Christmas, such simple actions are easily forgotten.
On Holiday at Christmas
With an average of 1 in 5 houses left empty over Christmas, burglars will be out in force looking for the silent properties and the inevitable security lapses.
If you are going away at Christmas, don't think that burglars are on holiday too. Be sure to take all the necessary precautions such as making sure all windows and doors are firmly locked and asking neighbours to key an eye on your home.
The Fear of Trick or Treaters
Even though Halloween is traditionally a fun time for children, it can cause distress amongst members of the community, particularly in the tradition of trick or treating.
More often than not, if there's a knock at the door on the evening of Halloween then it will be a sweet and harmless group of very young trick or treaters dressed in scary costumes and accompanied by a responsible parent.
However, there are also odd occasions, when older children will take advantage of the occasion to amass some sweets and wreak mild havoc. However innocent or malicious their intentions, it is these impish trick or treaters that scare and intimidate many residents - particularly the elderly, the vulnerable and those who live alone - and can make Halloween an occasion to dread.
Dealing with Trick or Treaters
The simple way of dealing with trick or treaters is to just give them what they want. The premise is that if you don't give them treats then they're allowed to perform a trick – such as pelting rotten eggs at your house – so to save any bother, just give them some sweets and be done with it.
If you don't want to give them anything, or don't trust them, then the next best option is to pretend you're not in. Decamp to the back of the house for the evening, switching off all the lights and closing all the curtains at the front. If the tricksters know you're in and think that you are deliberately ignoring them then they may be tempted to enact some kind of revenge.
No Trick or Treat
Police across the UK have recently started issuing posters that residents can display in their windows advising trick or treaters not to bother calling. They are available from local stations around Halloween or for download from one of the police websites. These posters should make it clear to trick or treaters that they are not welcome.
You might also like...