Keeping Older People Safe in the Home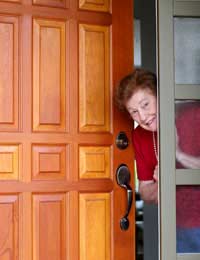 The elderly are at a high risk of being a victim of a serious accident in the home. It is therefore important to take some basic precautions in order to minimise the dangers.
The Facts About Elderly and Home Safety
Recent statistics highlight how vulnerable our elderly population are to accidents in the home - out of 4,000 deaths every year, 1,300 victims – just under a third – were over 75. Every single day over 1,500 people over the age of 60 have a fall and need to be taken to hospital.
Many of these accidents can be avoided simply by taking some basic steps in making your home safer.
Fall Prevention
Although it is impossible to completely eradicate the risk of a fall in the home, there are several measures you can take to help minimise it:
Ensure that all floor surfaces are non-slip, securely in place and in good condition.
Ensure that all electrical appliance leads are not left trailing on the floor. Where necessary these could be stapled along the walls.
Arrange furniture to aid easy movement.
Keep clutter away from the floor space.
Keep the stairs clear at all times and make sure that the handrail is secure. A stair lift is worth considering as a safe alternative to this accident black spot.
Fit safety rails by the toilet and the bath.
Use long life light bulbs as they don't require frequent changing.
If You Are The Victim of A Fall
If you are unfortunate enough to be the victim of a fall then firstly it is vital that you remain calm and don't panic.
If you have a personal alarm then use it, or if you are injured and can't get up from the floor then, if possible, call 999. If these options are not available to you then try to attract help by banging on the floor or on a wall abutting a neighbouring property.
If possible then attempt to get up off the floor, using a secure item of furniture to pull your self up with. Try to keep warm by pulling a rug, blanket or coat over your and try to keep your limbs moving by tensing the muscles.
If you have a fall but recover from it on your own then it is still advisable to inform your doctor. There could be medical reason for the incident, such as medicinal side-effect, or the doctor might offer advice of preventing any further falls.
Fire Safety
Besides the risk of a fall, the other major concern for seniors is fire safety. In spreading rapidly and with little warning, fires can present a serious danger for all ages and abilities, and so in generally being less able to react, the elderly are particularly vulnerable in a fire situation.
It is therefore imperative that a smoke detector is fitted on every floor, and its battery checked regularly. It is advisable that all gas appliances in the home are also serviced regularly.
Crime Safety in the Home
Being the victim of crime is a concern for all members of society but none more so than its elders, despite the fact that they are no more at risk than anyone else.
There are some basic safety tips that should be followed by the aging members of the community:
Double check that all doors and windows are securely locked when leaving the house.
Never open the door to strangers. Fit a peephole in the front so you can see who is at the door.
Never keep large quantities of cash in the home.
Don't get into personal conversations with sales people on the phone.
Never give up personal information to strangers either at the door or over the telephone.
Fit good quality exterior low-level lighting to your home.
Consider fitting robust gates to the front and back of your property.
You might also like...