The Facts about Home Safety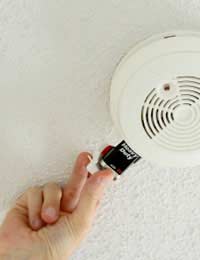 The home may be many people's safe sanctum, but it actually presents a greater risk of accident than anywhere else. It pays to be aware of the facts about home safety.
A Safe Haven?
Although traditionally seen as a safe haven away from the dangers of the outside world, the home has its own share of hazards with statistics showing that more accidents happen in this 'sanctuary' than anywhere else.
Every year around 4000 deaths occur as the result of a home accident, with 1300 of these victims being aged over 75. The National Health Service estimates that the cost for treating accidental injuries in the home is £450 million per year.
Taking Responsibility
If the home is such a source of danger then who is responsible? Are we to blame or is the threat beyond our control?
Statistics show that the single largest cause of home accidents is human error and most could have been prevented with forethought. This does at least show that home safety is within our control, and if we only thought carefully about basic safety precautions in the home, then we can drastically reduce the dangers.
The Sources of Danger in the Home
Accidents occur as the result of a wide variety of everyday activities including cooking, DIY or simply children playing. One of the most feared and dangerous home hazard is fire.
Although in its swift and deadly devastation, fire is a merciless and frightening threat to home safety, with fire safety measures such as smoke alarms, it is one of the easier risks to control.
The accidents that account for the largest number of injuries in the home – a whopping 50% - are falls. This can occur in all parts of the home and to any age group, although the elderly and children are the most vulnerable. Every year approximately 4,000 children under the age 15 suffer injuries as a result of falling from windows, and a similar number account for falls on the stairs. These figures are consistently high because fall prevention is difficult area to guard and prevent.
Who Is At Most Risk?
The groups most vulnerable to accidents in the home are those less able to look after themselves, such as children under 5 and people over 65. Whereas children become less at risk as they get older, the elderly conversely increase their likelihood of becoming a victim in the home.
Your gender can also have an affect on the likelihood of being a victim of an accident in the home. For instance, in the over 65s age group more women than men die as a result of a home mishap. Statistics also show that boys are involved in more accidents than girls.
Home Security
Although home accidents are still common, the public can at least feel reassured that the risk of their house being burgled has dropped significantly, falling 59% between 1995 and 2007. A contributing factor to the drop is the increased popularity of effective door latches, gates and sophisticated home security systems.
Another major factor is that burglary is simply not worth the effort and risk it once was. In our throwaway culture, consumer goods are cheap and widely available and knocked-off items don't have the same draw that they once had.
You might also like...