Cleaning up the Home after a Flood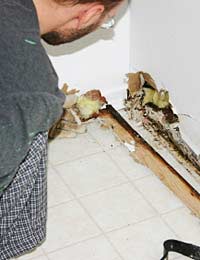 Flooding might not destroy the house but it can easily destroy the home. Cleaning up after a flood can be a long and heartbreaking job, and so it is important to do properly.
Immediate Action – Informing the Insurers
Once the flood waters have retreated and it is safe to investigate the damage to your property, then the cleaning up process begins.
This commences with a call to your insurer's 24 hour emergency helpline number. A loss adjuster will likely be sent to look over your property and assess what repairs and replacements are needed, and what is covered by your policy. They should also be able to provide recommendations of reputable contractors/ tradesmen who might be required to help with repairs.
If your property is rented then your landlord should also be informed. And if you do not have any insurance at all then your local council should be able to provide information regarding hardship grants.
Keep Records
Before throwing anything away, cleaning up or paying for any service, it is vital to first check with your insurance company what is covered as part of your policy. Does it specify that property will be replaced or just clean and repaired? Will the insurers pay for any service or equipment you might need?
Before the clean up begins it is important to first get a detailed record of the flood damage. Photographs or video footage of all the affected parts of the property should be kept as evidence for the insurance company. In addition to this, make a list of all the damage to your property and belongings. All relevant receipts and correspondence with the insurers should also be filed.
House Cleaning – Tips and Precautions
Even if it's not raging through the streets causing havoc, flood water is always a danger – hidden in its grey murkiness could be a toxic mix of sewage, animal waste and chemicals. Cleaning up clothes should therefore include rubber gloves, waterproofs, Wellington boots and a face mask.
To prevent further disaster, it is vital to first check that the electricity supply is switched off before cleaning out the flood water. If it is switched on then a qualified electrician will need to be called out.
The water can be pumped out using a pump and generator. In order to prevent structural damage, this should only be attempted once the water levels are lower outside than inside. The generator should also be kept outside to prevent carbon monoxide poisoning.
The actual cleaning and disinfecting operation can be carried out with regular household and fabric cleaning products. A garden hose is a useful tool for washing down walls and surfaces. If you require any help and advice regarding the clean up process it is worth first contacting your local authority or health authority.
Drying Out
It takes an average brick house around one month per inch to dry out. To save an agonising wait, it is advisable to employ some techniques to aid the drying process.
If you have chosen to dry out your property naturally, then keep doors and windows open as often as possible – although making sure all valuables are secure. This is only an option during the warmer weather - during the winter months it is advisable to instead close all external windows and doors and employ the service of a dehumidifier.
Alternatively, if your home has gas or oil central heating then this can be switched on – after being looked over by an engineer – at around 20 to 22 degrees centigrade to aid the drying process.
Exercise Caution!
It will take a long time for your home to return to some kind of normality and when, after a concerted clean up operation, it starts to look like the old place, it is important to still exercise caution.
Before turning your gas, electricity and water supplies back on, first check with your suppliers whether they have sufficiently dried out. Wash taps and run then through for several minutes before using.
Throw away food that might have come into contact with flood water – it may be contaminated.
Preparing for the Next Time
Being the victim of a flood is not a freak occurrence, it means that you are in a flood risk area and therefore susceptible to future outbreaks. Thus whilst planning your repairs, it makes sense to think about ways you could protect your property in future. Some potential ideas may include:
Laying ceramic tiles on the ground floor and using rugs instead of a fitted carpet.
Raising the height of electric sockets to over 1.5 metres above ground floor level.
Fitting plastic or stainless steel kitchens instead of chipboard ones.
Positioning the main units of a heating or ventilation system upstairs or away from ground level.
You might also like...