What Property Features Appeal Most to Buyers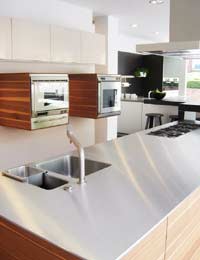 If you want to attract the best price for your property then it is advisable to think carefully about the demands of potential buyers.
The Buyer Perspective
When you first move into a property it's natural to want to personalise it and customise to your own tastes and needs, such as by changing the décor, or installing a new kitchen. The house or flat should look and feel like it's your home and not an identikit. However, when you are thinking about leaving the property your priorities alter somewhat. Suddenly instead of thinking about your own wants, you're start considering those of the average home buyer.
For example a powerful technique in appealing to the wants of buyers is to depersonalise your home space. This doesn't mean stripping it of all personality, just yours. Potential buyers want to try to envision themselves living in the property, and they don't want to be distracted by brass bell ornaments, shelves stacked with sports trophies and walls thick with family photographs.
Property Feature Wish List
However, on a broader scale it is also useful for homeowners to consider what property features appeal most to buyers when evaluating their home's sale potential. Such information could be useful when considering pre-sale home improvements, perhaps to bump up the value, but equally useful if you aren't planning on moving but don't want invest a home modification that won't appeal to future buyers.
The recent Spicerhaart estate agent survey identified the top ten feature requests of home buyers and in doing provided a useful guide on how homeowners can cash in on their renovations. The top ten is as follows:
Parking space
Kitchen and dining area
Central heating
Garden
Double glazing
Size
Room number
Sufficient living space
Original features
Ensuite bathroom
Car Parking and Dining
The number one concern for home buyers isn't even in the home, it's the property's car parking facilities. With more householders maintaining two or more cars, it's perhaps no surprise that one of their chief concerns is in keeping their beloved motors safe and secure off the street. Whether with a garage or ample driveway, a property has a distinct selling point if it can accommodate two cars.
The study also highlighted how important the kitchen and dining area are to the prospective buyer. This might provide some food for thought if your current dining area is on your knee in front of the TV or if your kitchen is looking somewhat worse for wear. A new kitchen is always worth considering as, according to the survey, it is regarded by estate agents as the most remunerative of home improvements.
Space and Standards
Double glazing and central heating are so widely accepted as standard in a new home that the absence of either will instantly knock points off a property's buyer appeal. It basically means that the new owner will have to start by forking out for these missing features, an extra expense that most will be looking to avoid. The property's other features will need to be very impressive indeed!
Another key aspect to the buyer wish list is the attraction of space. Most people like to stretch out when they get home and don't see pokiness – or 'cosiness' as estate agents refer to it - as being a plus point. Any way that space can be expanded or reclaimed in some way will offer an extra bonus to your home's sale expectations. A loft conversion, an extension, a conservatory are all great ways to increase living space and bump up the sale value.
Original Features
There is one member of the top ten that is in a way the opposite of the rest, that referring to 'original features', because whereas all the others on the list are forward thinking so-called improvements, this looks backwards.
Over the years homeowners have altered their homes to suit stylistic trends, tastes and necessity, but in keeping their home moving with the times have replaced and destroyed many of the property's original features and details. The fireplace, the coving, tiling, front doors with stained glass etc. might all at one time have been considered fairly common and unremarkable, but through age and rarity have become hugely desirable, particularly in an age which is increasingly retro-obsessed Hallmarks of an inimitable architectural period – whether it's art-deco, Georgian, gothic or the 1930s semi – are 'classic' and attractive features for many house hunters.
Unfortunately if they're gone they're gone; you can't buy original decorative coving and stick it up in your lounge. Still it is possible that your property has retained certain original features that you may not have been aware of.
You might also like...