The Benefits of Home Extension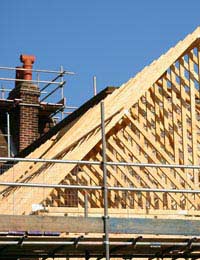 Home extension is a good way to create space, and provides a cheaper alternative to the high costs of moving, but is it an effective way to raise the value of your home?
Home Extension over Moving House
With the cost of moving home getting ever costlier, recent years has seen an increase in the number of cramped householders choosing instead to stay put and free up some space by extending their property or converting their loft. By building a conservatory or extension to an existing property, or by converting the loft, householders can bypass the time, effort and numerous fees associated with moving.
Adding Value to your Home
In a stable housing market, it has also proven to be a good way to add thousands of pounds to the value of an average property.
In 2006, when the UK property market was still relatively buoyant, the Nationwide building society reported that an extra bedroom would add an average 6% to the value of a house, whilst an additional bathroom would add an average 5%. The most profitable home addition, however, was a loft conversion. A conversion of 300 square feet of loft space into an en suite bedroom could have potentially added over 20% to an average property's value.
Loft Conversion
The most important advice to bear in mind when converting a loft is that it should not look or feel like an add-on. The key to achieving this is in fitting a staircase that seamlessly fits with the rest of the house, as opposed to a rickety ladder that reminds you that you are ascending into a separate loft space.
It's also worth bearing in mind that some loft conversions demand planning permission before being implemented and, if it is a rented property, the landlord's approval.
The Significance of the Extension Location
In addition to the quality of, and demand for, the conversion, the added value of each additional square foot would also depend on where you live.
The Halifax has begun undertaking an annual house survey that adopts the price-per-square-metre measure common in the rest of Europe rather than conventional UK model, which is based on the number of rooms. It is a useful measure for house price comparison because it allows for adjustment due to property size and type across areas.
For example, the results of this show that an additional square foot in the UK's most expensive city, London, is worth over three times that of Wishaw in Lanarkshire and Peterlee in County Durham, two of its least expensive towns.
The Negative Effects of a Property Slump
A climate of falling house prices, like that began to hit the UK in 2007/08, is bad time for those thinking about investing in home improvements. During such a spell, those once profitable additions, such as loft conversions and home extensions would be expected to result in a significantly negative 'net value added'. In other words, they will cost more to undertake than they will end up adding to the value of the property.
In fact during a property slump, the only home improvements that would be expected to add value to a home are cosmetic ones, such as painting and decorating.
Nevertheless this should only discourage those homeowners who are considering home extensions as a way of boosting their property's value. If you want to convert your loft into an extra bedroom purely because you need the extra room or add a conservatory to make the most of the beautiful afternoon sunshine, and you can afford it, then the state of the current housing market shouldn't be a concern however well it is performing.
You might also like...