Quiz: How Street Smart Are You?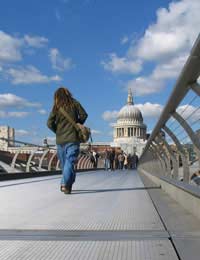 While there is no way to guarantee your safety on the streets of Britain, by behaving in a street smart manner you can at least minimise the risk. So how street wise are you?
1. If you are convinced you are being followed in the street
...what should you do?
(A) Quickly head into the nearest public place, or any residence or business that looks occupied.
(B) Cross the road and run in the opposite direction.
(C) Turn around and confront them to ask them why they are following you.
(D) Stop and scream, "Stop following me!" as loud as you can.
2. Whilst walking home through the park late a night you hear strange sounds
...coming from the bushes, what should you do?
(A) Go and investigate what's going on.
(B) Break out into a sprint and don't look back.
(C) This wouldn't happen as you know never walk through secluded places such as alley ways, parks or waste ground, after dark.
(D) Ignore it – all sorts of strange things go on in parks late at night, it's best not to pry.
3. If a stranger in the street threatens you with a weapon
...and demands your valuables, what should you do?
(A) Run as fast you can.
(B) Say "No" and simply turn and walk away.
(C) Give them what they want.
(D) Scream.
4. If you are a regular jogger, which of these methods will NOT help you
...to avoid unwanted attention?
(A) Wearing dark or bland coloured clothing.
(B) Running a variable route.
(C) Sticking to well lit and populated areas.
(D) Running very fast.
5. After a late night out in town
...what is the safest way of getting home?
(A) Getting the night bus.
(B) Hailing a taxi.
(C) Walking.
(D) Booking a licensed taxi to share with friends who live in a similar area.
6. When walking home late at night
...which of these safety measures are you not advised to adopt?
(A) Stick to well lit public areas.
(B) Walk in company.
(C) Wear a large hat so that your face can't be easily seen.
(D) Keep valuables, such as mobile phones or jewellery, out of sight.
7. If a stranger comes up to you in the street
...to ask for change or a cigarette what should you do?
(A) Blank them completely.
(B) Stop and give their request your undivided attention.
(C) Run.
(D) Politely say "No" whilst carrying on walking.
8. To avoid attracting unwanted attention, what street manner is it best to adopt?
(A) Act confident, with your head high, as if you know where you are going, even if you don't.
(B) Attract assistance by looking like a tourist, such as in holding a map and appearing confused.
(C) Keep your head down and your shoulders hunched to avoid catching a stranger's eye.
(D) Try to appear tough and cocky by walking with a strut, and with your chin in the air. Chewing gum also increases the effectiveness of the manner.
9. If you are travelling by public transport at night
...which of these tips is it NOT necessary to observe?
(A) Always plan your route beforehand.
(B) Try to wait in well lit areas, ideally with a group of other passengers.
(C) Try to strike up conversations with other passengers.
(D) Try to sit near other passengers or members of staff.
10. What should you NOT do when using a cash machine?
(A) Accept help from a stranger.
(B) Keep you PIN secret from everyone, even the bank or the police.
(C) Shield you PIN from the people around you.
(D) Cancel your card immediately if it is lost, stolen or eaten by the machine.
Answers
(1) A (2) C (3) C (4) D (5) D (6) C (7) D (8) A (9) C (10) A
How well did you score?
If you got 8 or more correct answers, you're pretty street savvy; you know how to stay safe and don't take any risks. Keep it up and ultimately try and aim for 10 out of 10 to be the safest you can.
If you scored between 5 and 7, you have some reasonable knowledge of how to be smart on the street. However, you need to brush up on some of the actions you can take to stay safe - so do your homework!
If you scored 4 or fewer, we're surprised you've not been mugged already! Get street smart by checking over the correct answers. Take the test again and don't feel comfortable until you've got all the questions correct - and be sure to put your knowledge into practice.
You might also like...