Crime Knowledge Quiz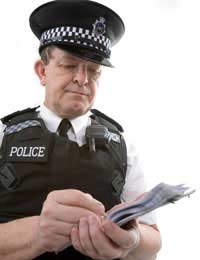 It seems there are few other countries in the world that enjoy raking through crime statistics as the UK - they are seen as a key to its social ills. But how well do you know the nation's crime figures?
1. On average how often does a crime take place in England and Wales?
(A) Every Second
(B) Every 5 Seconds
(C) Every 30 Seconds
(D) Every minute
2. According to the latest British Crime Survey, what is the average likelihood of you being burgled?
(A) 1 in 10
(B) 1 in 40
(C) 1 in 80
(D) 1 in 200
3. What is the most popular time of day for burglaries?
(A) At night when residents are in bed
(B) Early in the morning
(C) During the day
(D) During the evening
4. What percentage of burglars would reportedly be put off
...from breaking into property with a burglar alarm?
(A) 10%
(B) 100%
(C) 47%
(D) 90%
5. What is stolen in a half of all robberies?
(A) Cash
(B) Mobile phone
(C) Jewellery
(D) MP3 player
6. Who is the typical homophobic hate offender?
(A) A neighbour
(B) Unemployed male aged between 31-40
(C) Teenage girl
(D) Young white male aged between 16-20
7. Who is the most likely to be a victim of violent crime by a stranger?
(A) Full-time student
(B) Unemployed
(C) Young man
(D) Young woman
8. How many murders were recorded in the UK in 2007?
(A) 15
(B) 927
(C) 12,522
(D) 1,987
9. The 5.4 million crimes recorded in the UK in 2007
...place it second only to which country in the EU?
(A) Sweden
(B) Italy
(C) France
(D) Spain
10. According to a recent Home Office survey what percentage of 10 to 25-year-olds
...have carried a knife in the previous 12 months?
(A) 55%
(B) 0.5%
(C) 4%
(D) 2%
11. For every one teenage death caused by a knife attack
...approximately how many cases of hospital treatment for non-fatal knife wounds are recorded?
(A) 2
(B) 52
(C) 3
(D) 14
12. How Many CCTV cameras are currently watching over Britain?
(A) 560,000
(B) 260
(C) 17,000
(D) 4.2 million
13. What percentage of street robberies in London are now reportedly solved
...with the aid of the capital's 10,000 CCTV cameras?
(A) 55%
(B) 11%
(C) 72%
(D) 3%
14. What is biggest culprit for the dramatic rise of online banking fraud
...between 2004 and 2008?
(A) Key logging programmes
(B) Phishing
(C) Scam emails from supposed Nigerian businessmen
(D) Teenage hackers
15. The largest cash robbery in UK history netted £53,116,760
...but where did it take place?
(A) Northern Bank in Belfast
(B) Bridego Railway Bridge, Ledburn, Buckinghamshire
(C) Securitas Depot, Tonbridge, Kent
(D) Lloyds Bank, Baker Street, London
16. What was Steve Wright found guilty of on February 21, 2008?
(A) The murder of five prostitutes in the Ipswich area
(B) The rape of seven women and girls around the Kent, Surrey, Berkshire, Hertfordshire and London areas
(C) The murder of 13-year-old school girl Amanda Dowler
(D) Conspiracy to commit robbery at the Securitas Depot in Tonbridge, Kent
Answers
(1) B (2) B (3) D (4) D (5) B (6) D (7) C (8) B (9) A (10) C (11) D (12) D (13) D (14) A (15) C (16) A
You might also like...