Boscastle Catastrophe: The Mark of Future Floods?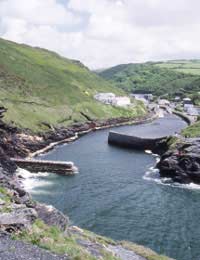 The devastation of a Cornish village in 2004 by flooding and the media storm that followed suggested that far from being a freakish disaster, the event was a mark of what's to come.
The Boscastle Flood
When Boscastle was left in tatters after heavy, intense rainfall caused local rivers to burst their banks and swamp the coastal settlement, it formed the media centrepiece to a summer storm alert that began with London's sewers overflowing into the river Thames and culminated with mudslides in central Scotland.
Although the question of whether global warming is to blame for increased flooding had been aired before, it was with the Boscastle flood that it became a subject of great public debate and concern. Was this a rare freakish occurrence or was the Boscastle flood a mark of worse to come?
The Global Warming Effect
In many respects the flooding of the Cornish village was not so unusual. Flash floods are a well recognised aspect of Great Britain's climate, positioned as it is along a so-called 'battle zone', in which tropical air converges with cold polar air to create the potential for stormy conditions. What's more Boscastle itself has always been a perilous spot, prone to sharp rises in rivers levels after heavy rain.
Nevertheless, the fact that the event was more severe than any other on record coupled with then recent increases in flood incident frequency – such as the UK storms of 2000 and the 2002 mainland Europe flood catastrophe which swept across 11 countries, claiming 80 lives and causing billions of pounds worth of damage – led many scientists at the time to believe that Boscastle was the mark of something much more serious.
It is believed that as the world heats up, the potential for extreme storms is growing. The theory is that if tropical air masses warm up as a result of climate change then they become better at holding greater quantities of moisture. What this means of course is that when the heavens do open the volume and intensity of the rainfall is increased.
Gloomy Outlook for the Future
Research by the European Environment Agency following the catastrophe confirmed worries by offering a gloomy outlook for the future. It warned of increased frequency of damaging storms, floods, droughts and other extreme weather.
The scenes in Boscastle on August 16, 2004 offered the UK population an alarming vision of what was in store for them in the future.
When the sudden rainfall caused two local rivers to break their banks, a wall of water, estimated to be around a metre in height, careered through the main road at about 40mph. Cars, walls, river banks were caught up in its ferocious path. Trees were uprooted, sections of road swept away and the village's two bridges were completely destroyed. Even fridge-freezers were swept up by the floodwaters as it gushed through properties.
Incredibly, despite the abject devastation inflicted on the tourist beauty spot, with six properties collapsing completely, there were no fatalities. A total of 150 people were airlifted to safety from stranded motorcars, trees and rooftops, where they had sought refuge.
It was reported that Boscastle had been hit by an incredible 185mm of rain in just five ours and around two billion litres of water had gushed through the village that day.
The Flood Forecast
The ominous forecast for the future in the wake of the Boscastle flood has so far proved correct. Every year since the UK has been subject to some form of severe flash flooding.
The worst of these occurred in the summer of 2007 when large swathes of the UK were hit by heavy and intense rainfall, particularly in parts of Yorkshire, Gloucestershire, Worcestershire, Oxfordshire, South Wales and Northern Ireland. Even Boscastle found itself once again bathed in floodwaters, although it was mercifully a much more minor incident than in 2004. The period between May and July turned out to be Britain's wettest since records began in 1776.
SECURED HOME IS FOR SALE.
This website is for sale [more info].
You might also like...