Smoke Alarms: Frequently Asked Questions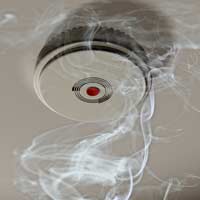 Fitting a smoke alarm in your home could help save the lives of you and your family. According to statistics you are twice as likely to die in a fire in a house without a smoke alarm as in one that has. Therefore to encourage their safe and effective use, we present answers to some frequently asked questions about smoke alarms.
What is a Smoke Alarm?
It is a self-contained electronic device that incorporates a fire detection facility (the smoke detector) and an audible warning system (the alarm itself). By detecting fires in their early stages and sounding a loud warning, it buys you and your family an extra few minutes escape time that could prove critical.
What Types of Smoke Alarm are Available?
There are three types of smoke alarm available – ionisation, optical – also known as photo electronic – and combined.
Ionisation alarms are the cheapest and most common. They are particularly sensitive to the small smoke particles produced by fast or flaming fires, which they will detect before the smoke thickens too much. They are slightly less sensitive to slow burning and smouldering fires, which produce greater amounts of smoke before the flames appear.
The more expensive optical alarm is designed to be more proficient at detecting these slow burning fires with large smoke particles. They are generally slightly less sensitive to flaming fires.
The combined alarm combines the specialities of both these alarm types.
Which Smoke Alarm is Best For Me?
In theory you should choose the alarm type that would be better suited to the type of fire most likely to occur in your home. However, as both are equally common it is best to get an alarm of each type or a combined alarm.
Always buy a smoke alarm that conforms to the standards set out by the British Standards Institution (BSI). It should meet BS 5446 Part 1 and carry the familiar British Standard Kitemark or PCB 'Horseshoe' mark.
How Many Smoke Alarms Do I Need?
As a rule, you should have at least one smoke alarm per floor. Ideally it is best to have a combination of optical and ionisation alarms.
For maximum protection a smoke alarm could be fitted in every room of the house, apart from the kitchen, bathroom or garage where heat detectors are more appropriate.
Where Should I Fit My Smoke Alarm?
Smoke alarms should be fitted so that they can be heard throughout the home, particularly if you are asleep in bed or all the doors are closed.
The best locations are the areas between living spaces such as the hall and landing. So, for example, if you live in a two storey house then alarms should ideally be fitted both at the bottom of the staircase and on the first floor landing.
The smoke alarm should be fitted on the ceiling as near as possible to the centre of the room, hall or landing area. It should be at least 30cm away from any wall or light fitting, and also be easily accessible so that it can be regularly tested. If it is fitted on a side wall then it should be no more than 15 to 30 centimetres below the ceiling.
Where Shouldn't I Fit It?
If you fit the smoke alarm near to the kitchen or bathroom then you may find cooking smoke or steam will keep setting it off accidentally. Garages are also inadvisable because it might be set off by exhaust fumes.
Don't fit the alarm to damp or dusty surfaces, or false ceilings as there is a danger it will fall down.
How Should I Fit the Smoke Alarm?
You should always follow the manufacturer's instructions provided with the alarm.
Is it Difficult to Install?
No, smoke alarms are designed so that practically anyone can fit one. Usually all you need is a screwdriver and the instruction leaflet.
However, if you decide to opt for a main powered smoke alarm then a qualified electrician should be contacted to install it.
How Often Should I Check it?
To ensure that it is working properly, the smoke alarm should be checked every week using the test button. After six months, it is also advisable to gently vacuum the inside to remove any dust particles from the sensor.
Unless it is a ten or fifteen year alarm, the battery should be changed every year or when necessary. An intermittent beep, or 'chirp', will sound when the battery is low and needs changing.
How Long Will My Smoke Alarm Last?
Alarms are designed to be replaced after about 8 to 10 years. Many modern smoke alarms now carry a label that specifies a recommended 'replace-by date'.
You might also like...