The Insurance Flood Risk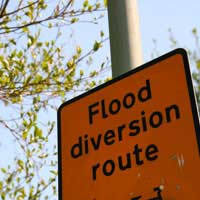 Severe flooding in the UK not only presents an ever increasing threat to your property but also to any hopes you have of keeping it insured.
The Risk of Becoming Uninsurable
If you currently live in a flood prone area then you will likely be paying a higher insurance premium to compensate for the increased risk. But with the threat of flooding in the UK becoming ever more severe, will we soon reach a point where the risk becomes so high that certain properties become uninsurable?
That is the worry raised by the Association of British Insurers (ABI) who point to an approximate 517,000 homes across the UK identified by the Environment Agency as being at "significant risk", and which could soon become uninsurable.
During the disastrous summer of 2007, where parts of the country were ravaged by three separate flood catastrophes, insurance companies were forced pay out over £3 billion in claims. Although this phenomenal payout didn't cripple insurers, being sufficiently absorbed by the reserves that insurers keep aside in anticipation of exceptional incidents, it has put major pressure on what they will do in future - three events in quick succession is not an exceptional event but a mark of things to come.
What is Being Done?
As a consequence of the 2007 floods, the ABI pressured the government into taking action. With more than half of the 180,000 insurance claims resulting from surface water rising up through the drains, a lot of the responsibility lies with them. The association has urged the government to take a co-ordinated approach and carry out a thorough assessment of the flood risk, with particular focus on the issue of overflowing drains.
Nick Starling, the ABI's director of general insurance and health, said that planning for the future was vital in order to minimise the damage caused by the next wave of floods. He said that well planned combatant measures will reduce costs for insurers, loss for households and ensure that insurance companies don't go out of business.
ABI and the government came to an agreement whereby the association's members would keep providing insurance to most properties as long as the government invests in adequate flood defence.
Recent flood protection action has included the Environment Agency opening the Flood Forecasting Centre and being given greater management and co-ordination powers. Thames Water has also recently submitted a £5.5 billion request to initiate a programme to rebuild much of their inadequate Victorian water and sewerage infrastructure.
Surface Water Threat
Defensive measures need to be introduced fast. According to recent National Flood Risk Assessment statistics, more than 5 million homes are now thought to be at risk of flooding from rivers, seas, or surface water from overflowing drains.
This is twice the level that was previously estimated and as such many people have been surprised to discover that their homes are now considered at risk. The reason for this revision is the revised threat of surface water, the cause of over 63% of flooding in England and Wales.
Surface water flooding occurs when the level of rainfall in area exceeds its drainage capacity. This means that you can live miles from a river and the sea, and be still affected. There are even areas atop hills that are at risk from surface water flooding. It is therefore recommended that everyone check whether their home is in a risk area.
Londoners are believed to be very exposed, living in homes that exhibit certain key risk factors - a relatively flat, densely populated landscape that relies on Victorian drainage systems.
Is There Anything We Can Do?
Is there anything you can do to lessen the threat? Experts advise taking personal responsibility for your own possessions. They also recommend investing in flood defence – not least because it can lower your insurance premium – and also being more careful about what you throw down the drain. Thames Water claim that 80% of drain blockages, a major contributor to surface water flooding, can in part be blamed on people putting inappropriate materials down the drain.
Beyond that we must hope that the government holds true on its agreement with ABI to take effective preventative measures. The association's promise to keep providing flooding insurance runs out in June 2013, and as things stand they are not planning to renew it.
You might also like...