Household Burglary in Great Britain - The Facts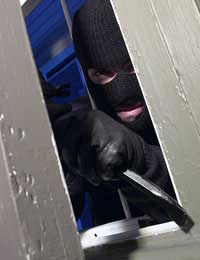 Fear of crime may be soaring but it obscures the fact that the burglary crime rate in the UK has been on a downward course for a decade.
The Burglary Crime Dip
Recent crime statistics show that although recent years have not seen a marked change in the number of homes burgled in the UK, the period between 1995 and 2007 has seen a dramatic 59% drop in domestic burglary.
The fall is in part credited to the many initiatives set up by police forces, local councils and community organisations in order to fight what, in the early nineties, was a worrying scourge. It would be nice to believe that community efforts have saved the day but the reality is quite different. The burglars are largely losing interest.
Reasons Behind the Burglary Rate Fall
On the whole, burglary seems to have dropped because it isn't worth a burglar's time and risk the way it once was. The low cost and high availability of hi-tech consumer goods means that there is now a much smaller public need for and return on 'knocked off' items. Also, with credit and debit cards becoming the dominating medium of payment, most households just don't offer a burglar much ready cash anymore.
The Positive Effect of Home Security
An increase in the standards of home security has also had an effect in the burglary rate fall. Houses still contain desirable items for the thief but the skill and risk now required to get at them is often not worth the trouble. A thief would be much better off mugging somebody in the street for his or her iPod or mobile phone. This might help explain that while burglaries have fallen, muggings have been on the steady increase during the last decade.
The houses with decent security might be being targeted less by thieves, but the opportunist burglar is still on the look out for those that aren't sufficiently protected. Even today, houses with simple security measures such as locks on windows and deadlocks on doors are ten times less likely to be burgled than those without any.
Householders Most at Risk
Aside from the home with no security measures, which clocked up a remarkable 22.5% risk of being targeted, the households at most risk of burglary were those with student residents or other occupants between the ages of 16-24, closely followed by unemployed and single parent family residents.
Those households that were least likely to be burgled are those that are in a rural area, that are detached houses, and those where the residents have lived there for longer than 10 years.
Of course many of the risk factors relate to one another. For example student houses are also much less likely to have sufficient security.
Europe-Wide Trend
The overall burglary rate drop is also part of a much larger, European-wide crime fall, which has seen levels dip dramatically since reaching a peak in 1995. Alongside improvements in security, this is believed to have been the result of a drop-off in the proportion of young men available to commit crimes.
You might also like...