Jailed for Defending Their Home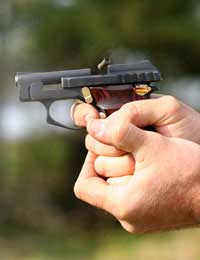 When a farmer was charged with murder for killing an intruder, it sparked an explosion of anger and bitterness from millions of UK citizens who believe the law to be at odds with any kind of justice. The debate rages on about whether people have the right to defend their property.
Defending His Property
On the night of August 20, 1999, two burglars – Fearon, 29, and Barras, 16 – were caught breaking into a farmhouse by owner Tony Martin. When they attempted to escape through a window, they were both shot at by Martin; Fearon was hit in the leg, and Barras in the back. While Fearon managed to crawl to the safety of a neighbour, Barras was later found dead on the grounds by a police dog.
According to Martin, the isolated farmhouse in Emneth Hungate, Norfolk had already been the scene of several burglaries. Unhappy with previous police inaction, the farmer felt that he had been forced into defending the property himself.
Punishing Victims and Rewarding Criminals
The incident polarised public opinion. To some he was an unhinged, trigger-happy bigot who wilfully killed a fleeing teenage boy, but many others thought him a decent man who, let down by the police, did the necessary thing in defending his property from criminals.
His supporters were duly outraged when, on August 23, Tony Martin was sentenced to life imprisonment for the murder of Barras and the attempted murder of Fearon, believing it highlights how the British legal system punishes victims and rewards criminals.
What is Reasonable Force?
At present the law entitles every citizen to use a reasonable force to prevent a crime such as burglary and Tony Martin's actions were seen as going far beyond what is deemed 'reasonable'. People should only be prosecuted if there is evidence of gratuitous violence. Martin had clearly used unnecessary force. By using an illegal firearm to shoot unarmed intruders who were retreating, he took the law into his own hands, and acted not out of self-defence, but revenge or a personal brand of justice.
But was Tony Martin guilty of murder - did he intend to kill or cause the intruders grievous bodily harm? A ten to two jury majority believed he did, and rejected the charge of manslaughter.
Seeking Greater Protection for Householders
The then Conservative leader William Hague demanded a change in the law to give greater protection to those who defend their homes against burglars.
However, it was perhaps an inappropriate moment to push the issue. In shooting dead an unarmed and retreating 16-year-old burglar, Martin had acted with disturbing impunity that few would like to see set a precedent.
Rather than improve safety and security, such defensive measures would be likely to lead to an increase in violent crime and fear of crime. When chairing a meeting at the time in nearby Emneth, a minister observed how much less secure residents felt after an action that was allegedly meant to teach burglars a lesson and re-affirm law and order.
In promoting a Conservative government that would introduce a 'strong presumption' in favour of people like Martin, William Hague was accused of promoting a 'lynch mob mentality' and a move to gun laws like in place in the USA, which is plagued with high levels of murder and violent crime.
Following a successful appeal against his sentence on grounds of 'diminished responsibility' due to a personality disorder, Tony Martin is now a free man and has added his own support to the cause. He has appeared on the platform for the UK Independence Party and endorsed the British National Party, both of whom advocate changes in the law to stop prosecutions of citizens using force against intruders, in addition to fewer restrictions on firearm control.
Sending Out the Wrong Message
However, it is unlikely householders will be granted greater freedom in using force against intruders anytime soon. Instead, there needs to be greater clarification as to what is allowed. Met Commissioner John Stephens has said that it's not only the public that are confused as to what constitutes 'reasonable force' but the police as well.
He believes the law is sending out the message that criminals can break into houses without fear of reprisal because the law prevents the householder from taking action.
Soft on Burglars
The more pertinent issue now is perhaps not that burglars are not facing their due punishment from householders, but from the law.
Further to William Hague's efforts, the Conservative Party are now highlighting how the law is currently too soft on burglars. In 2009 they released statistics showing that 4 out of 5 serial burglars fail to receive the minimum punishment.
In the Tony Martin case, the law thought it reasonable to allow a seasoned criminal such as Fearon to sue his victim - Tony Martin - for £15,000 damages.
You might also like...